Story of Sammy and his 7 factories
This is a very long story. But as long as you read the story carefully, you will know why so many customers choose us, why you can trust HY Metals. 
Because they have a deep struggle, dedication and responsibility spirit, this spirit has been inherited as a corporate culture, deeply affecting every employee. 
Sammy Xue, the founder and CEO of HY Metals group, was born in a small village North of China in 1985, he is the second child of the 5 children in the poor family.
Sammy has been always smart and working hard. After graduating from high school in 2003, he gave up his chance to go to college for his younger siblings and went to work to the south China. This was the first time he knew that he had to take the responsibility to his family. 
He worked in a sheet metal and plastic factory which was founded by a Taiwan man, Mr.Yong, who was called as a boss, mentor and friend by Sammy.
At that time, although he was paid very little, Sammy volunteered to undertake various jobs in order to learn different skills, including operation skills of laser cutting machines, metal bending machines, stamping machines and NCT punching machines, as well as how to make tooling , how to design a tooling for a stamped part.
When all workers went back from work to rest, he worked hard to learn computer knowledge till very late at night. Because only then, he would have the time and opportunity to use the computer.
God help those who help themselves. Soon, Sammy became a professional sheet metal engineer in the factory, he can solve all kinds of problems from design to manufacturing.
In 2010, the factory that he worked for began to decline, and the whole industry began to reshuffle. Large sheet metal factories began to close, and new small-scale sheet metal factories began to emerge and have more advantages. China's sheet metal and machining industry began to change. customized small batch services came to be more and more popular.
As mentioned at the beginning, Sammy has been always smart and working hard, he saw the sheet metal fabrication market opportunity and talked the idea with his Boss Mr.Yong. Yong was old and did not want to fight so hard any more but he encouraged Sammy to do anything he want. 
End of 2010, Sammy started his own business with his young brother Robin, just in a cramped rental room with only 2 computer and one old motorbike. He was personally responsible for the drawings and various problems in manufacturing production.
He drove his motorcycle to and from the factory and its customers, rain or shine, just tried to ensure every product of the customer is dedicated to be perfect. He knew clearly that he had to take the responsibility to his customers.
Soon, his hard work spirit and perfect products were recognized by more and more customers in the customized metal and plastic parts industry. 
And in 2011 he has his First sheet metal prototype factory-HuaYu Hardware Co., Ltd. It covers an area of 3,000 square meters, with more than 50 sets sheet metal machines and 40 skilled workers.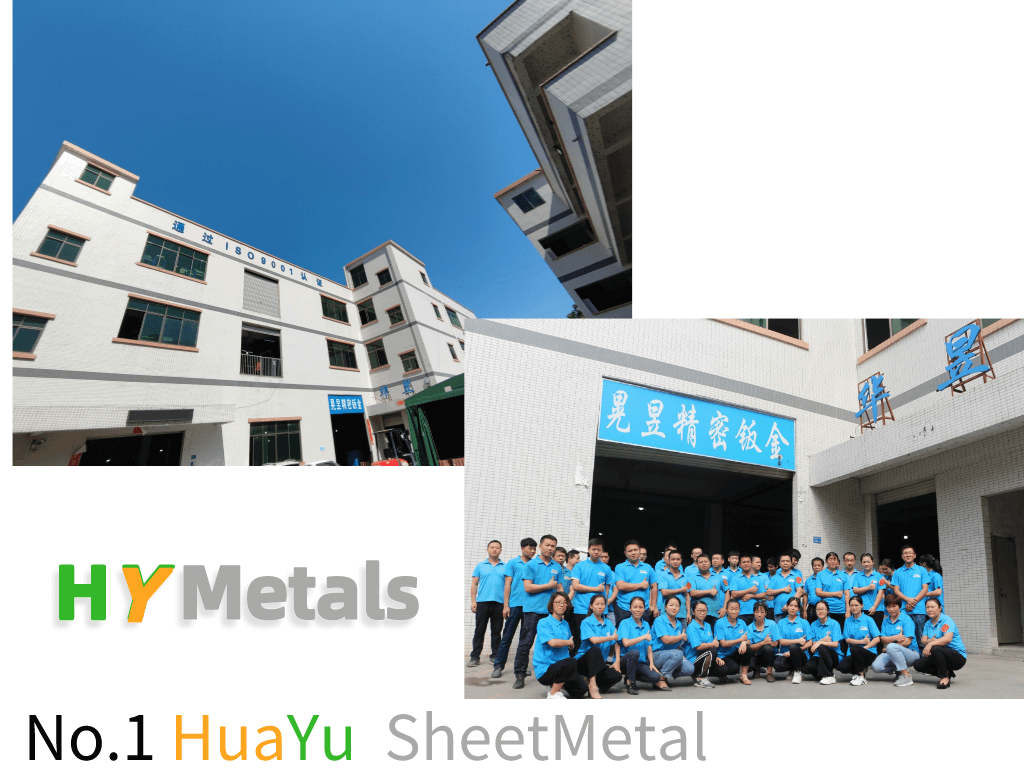 One day, a regular customer of Yong's came to Sammy with a big order, But was refused by Sammy immediately. Sammy told the customer, he would never get orders from Yong's customers unless Yong knew and agree face to face. Yong is more than his old boss. He will never be Yong's competitor.
This kind of valuable gratitude and principle in the business field is rare precious.
If you want to be trusted, you have to be a trustworthy person. Sammy indeed is. 
There were too many stories about how hard Sammy worked for the customer's trust.
Here is one: Sammy and the workers had been working for a urgent sheet metal order for 3 days without sleep almost, he is too sleepy to open his eyes when he drove parts to the customer at deep night, then his car crashed into a tree by the curb then he woke up. And the first thing he worried is neither his safety nor his car, but what's going on the parts and how to send the sheet metal parts to the customer as promised. He called Robin to send parts firstly and called the traffic cop then. The end was that customer got parts timely and Sammy paid the municipal tree for his two months' salary.
Relying on an excellent reputation and quality, HuaYu grew into a leader manufacturer of sheet metal prototype industry in GuangDong, they even had no any sales man. There is even a saying: Sheet metal prototype, must be HY.
More and more orders, more and more customers, Sammy realized the factory had to expand.
In 2016, the 2nd sheet metal and stamping factory was founded-HuangYu Precision Metal Products Co., Ltd. It covers an area of 8,000 square meters, with more than 100 sets sheet metal and stamping machines and 60 skilled employees.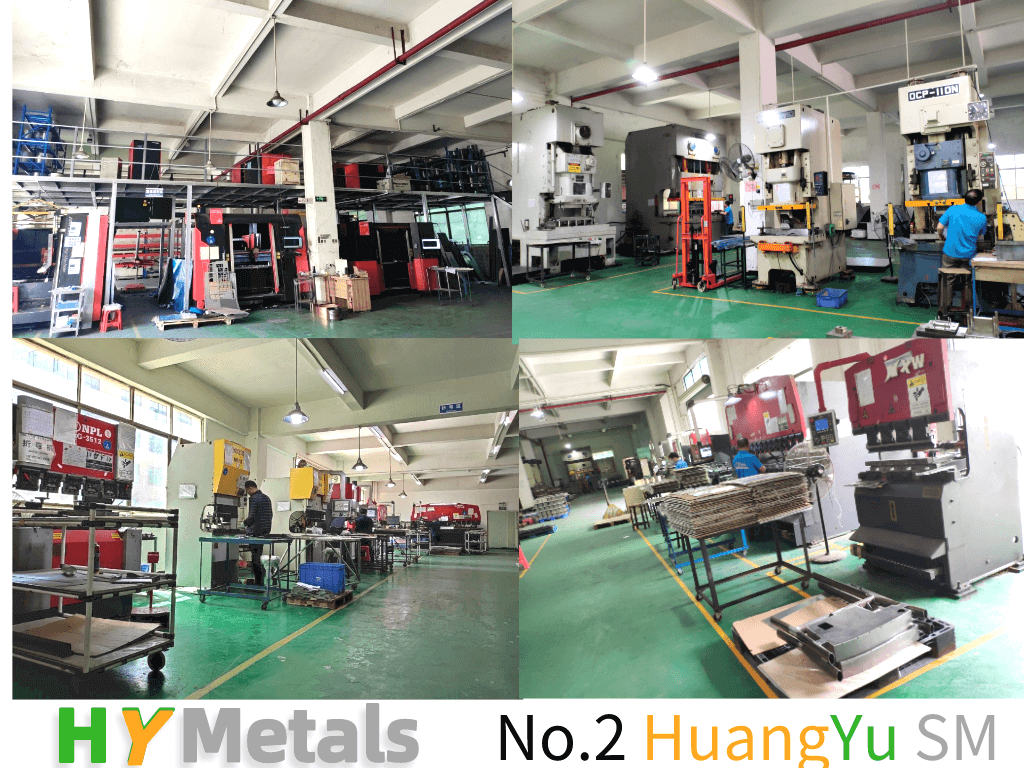 In 2017, Sammy set up the first foreign trading business team to expand the international market.
HY Metals team are recognized by more and more oversea customers with the quick response for quotation, competitive price, high quality parts, fast delivery time and the professional and responsible after-sales service. The customers even can clearly feel that the salesmen of HY Metals are working much harder and more reliable than other companies.
In 2018, The 3rd factory specialized on CNC machining was opened to meet customer's one-stop service needs for sheet metal parts and CNC machined parts. HuaYi CNC Machining Co., Ltd covers an area of 4,000 square meters, with more than 80 sets CNC milling and CNC turning machines and 40 skilled employees.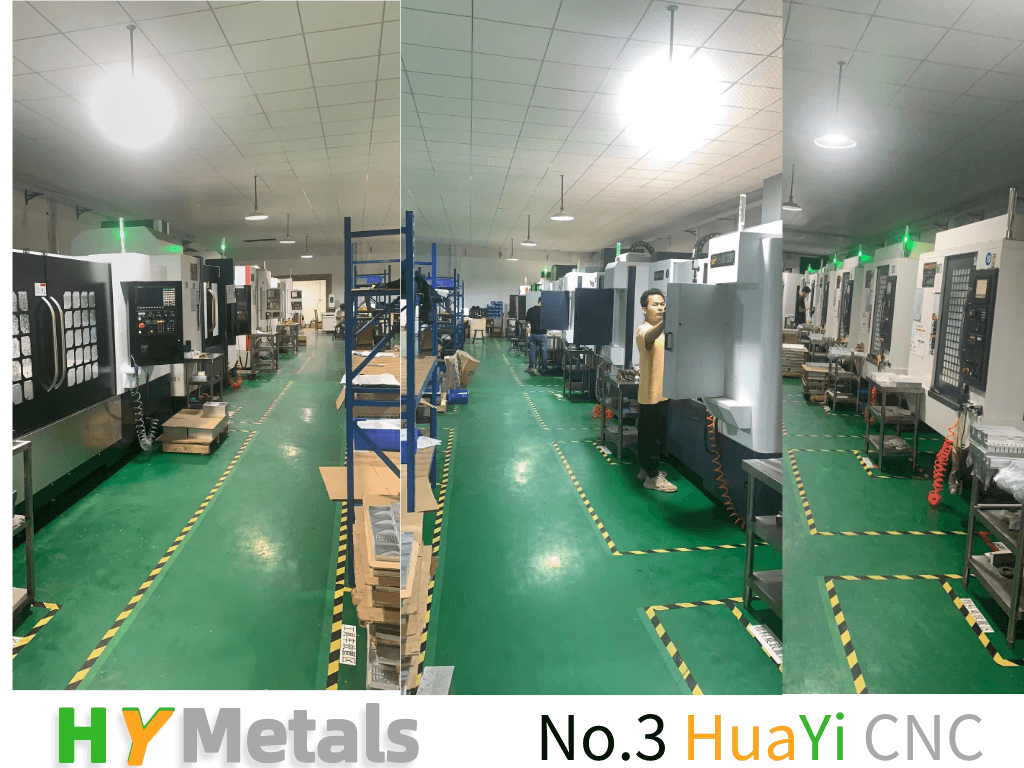 In 2019, Sammy set up the 2nd oversea sales team to serve different factory.
Double impacted by the trade war and COVID-19, The old boss -Yong's factory faced closure in 2020. He was too old to run the factory and wanted Sammy to help him.
As we all know, what the COVID-19 means to China and to trading business from 2020 to 2022.
In 2020,Sammy bought Yong's factory with a good price for Yong, even he was also not sure what would happen to the future market, but he was sure that he was younger and stronger than Yong that moment, he can and must help him, just like Yong once helped him before. He knew that he had to take the responsibility to his old boss , mentor and friend.
That's how the 4th factory founded-XingHua Metal and Plastic Co., Ltd, covers an area of 3,000 square meters, with more than 30 sets sheet metal fabrication and punching stamping machines and 30 skilled employees.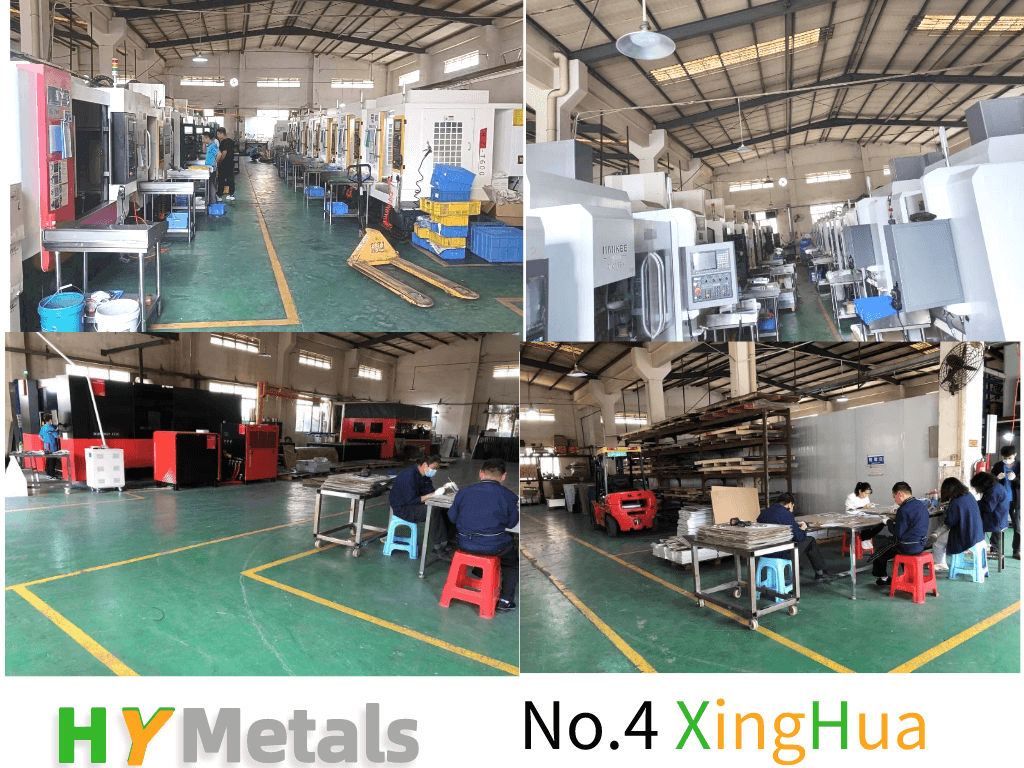 As it turns out, hard work always pays off. Covid-19 did not affected HY Metals too much, we even became more and more busy.
Then in 2021, Sammy found the 5th factory which is focused on precision machining-ZhenZhong Precision Machining Co.,Ltd, it covers an area of 2,000 square meters, with more than 70 sets CNC milling and CNC turning machines and 30 skilled employees.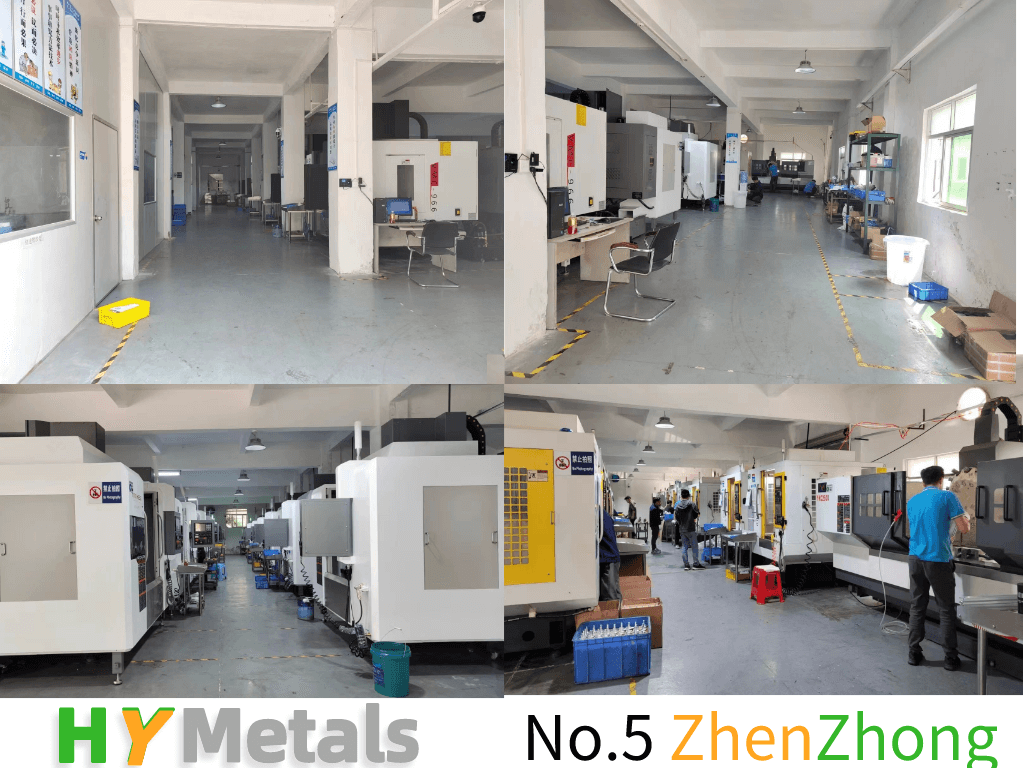 In 2022, Sammy bought another 2 factories from friends with almost same story with Yong.
That's our No. 6 sheet metal factory HaoHai and No. 7 CNC precision turning factory JinJing.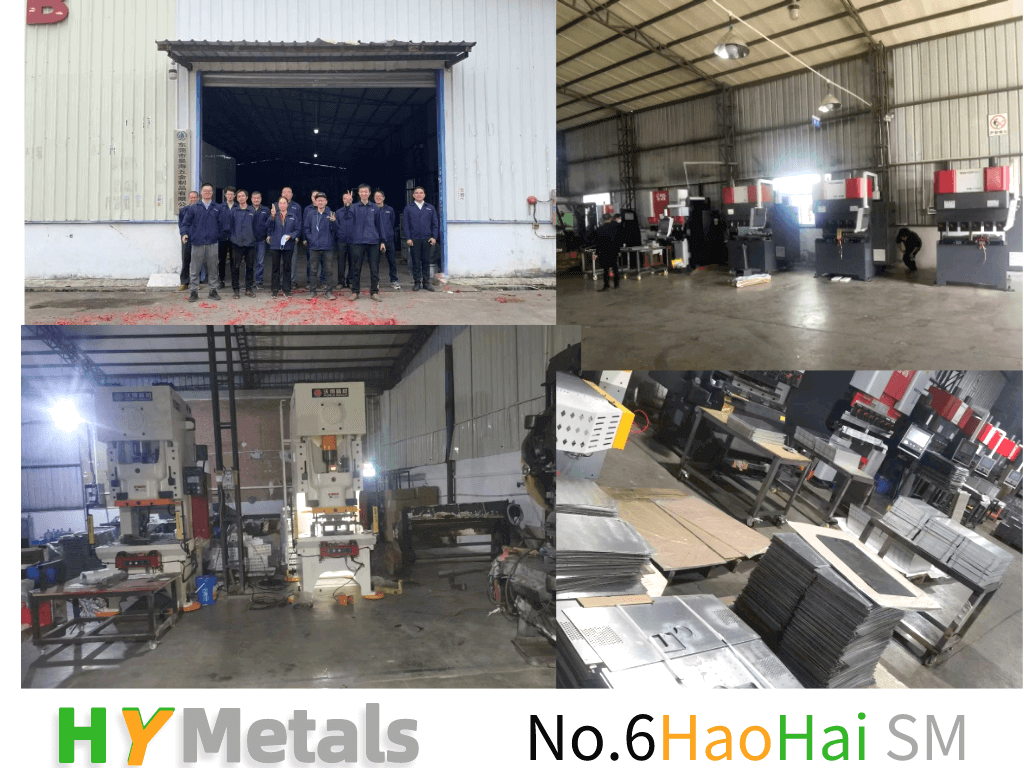 You may have a question, why HY Metals keep so many small and medium-sized factories, but not put them together to be a big one?
Different factory own a special background and the original team, to keep the core team members, we keep the factory as it was. But every factory will also be controlled by a similar system and principle.
In this way, the advantages of each factory can be maximized, and resources can be shared and between 7 factories to get intensive management.
Customization and small batch low volume have been the current market trend. To deal with the low volume but various customized parts, we have to be flexibility to get quick action for all kinds of customer's requirement.
4 sheet metal plants and 3 CNC machining plants make HY Metals not only have the excellent capacity, but also the flexibility, and risk resistance capacity. That's one of important advantage.
From 2003 to 2023, Sammy have been working in metal fabrication and machining industry for 20 years, and has accumulated a large number of good resources for the whole industry supply chain from raw materials to surface treatment finishes and some good partners.
That's another reason why we can provide one-stop service with high quality and high efficiency in custom metal and plastic parts.
Now Sammy keeps working hard and HY Metals keeps growing fast. The story doesn't end, hope you will be one member of the future story!
Back to the beginning of the story, the other 4 children of the family have grown to be good managers and been important members of HY Metals and fighting together with Sammy. 
Let's custom your metal and plastic parts, let's custom our future story!
A company with love, kindness, hard work and responsibility will never let you down. 
Tel:+86 15815874097 Susan
Wechat:na09260838
Whatsapp:+86 15815874097